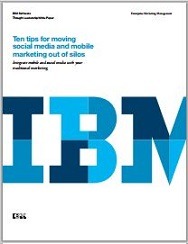 Although marketers understand the tremendous potential of social and mobile and are making major investments in these channels, unfortunately, too often these efforts are made in silos, unconnected to other traditional customer marketing activities and channels. Integration is vital in order to achieve the high levels of personalisation needed today to engage customers.
But for many marketers, integrating mobile and social marketing with traditional targeted marketing efforts has proven difficult and elusive. IBM's 2013 Global Survey of Marketers found that less than one-third of marketers have integrated social media and mobile marketing with other campaigns
The good news is that with the right strategy, innovation and technology, marketers can effectively coordinate their social and mobile marketing with other channels to deliver a consistent and optimal customer experience, drive conversions, and ultimately increase revenue.
So, where should you start?
This expert report offers ten tips to help you learn how to move your social and mobile marketing out of silos and integrate them with traditional channels focused on one-to-one customer marketing.