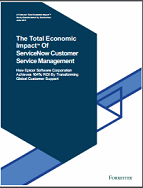 A June 2017 commissioned study conducted by Forrester Consulting on behalf of ServiceNow
How Epicor Software Achieves 104% ROI by Transforming Global Customer Support
This Forrester Study provides a framework and customer example to help readers evaluate the potential financial benefits of investing in ServiceNow Customer Service Management.
To understand and illustrate the benefits, costs, and risks associated with ServiceNow, Forrester interviewed Epicor Software, the world's sixth largest ERP software provider with $850 Million in revenue, that has been using ServiceNow Customer Service Management since October 2015.
As a result of their customer service and support transformation using ServiceNow, Epicor expects to save $11.4 million in three years from:
• 1% improvement in customer retention
• 3% increase in net new revenue through new upsell and cross‑sell opportunities
• 3X improvement in customer service reporting productivity
Download this study to evaluate the Total Economic Impact of using ServiceNow Customer Service Management to deliver effortless, connected, and proactive service.