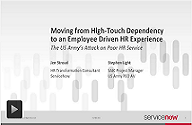 Many organizations depend on manual processes to onboard employees. Many also use antiquated systems like email to respond to and track employee questions around benefits, leaves of absence, and salaries. The US Army did all this too … until they transformed their HR service with ServiceNow.
Join Stephen Light, Project Manager for the US Army, to hear how the Program Executive Office (PEO) for Aviation overcame significant HR challenges caused by lack of process and automation. Stephen will provide a deep‑dive into how they automated HR workflows like onboarding and off‑boarding – and drove improved productivity and decision making.
In this On Demand webinar, you will learn how about:
• Automating manual, time‑consuming HR service delivery processes
• Leveraging an HR service delivery maturity model to map what your journey from chaos to organized service delivery would look like
• Using productivity and customer satisfaction metrics to make proactive and relevant business decisions
• Empowering employees with easy‑to‑use HR support that is accurate and timely, making it easier for them to be productive and innovative in their jobs
Register Now!