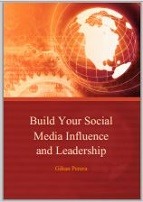 If you want to build social media influence effectively, you've got to focus on the activities that deliver results. Here's how to get started.
"Use social media to magnify your expertise and become an authority. That's the way to be truly influential in social media, which means you'll attract the right sort of clients and customers to your business."
This brief explains how to strengthen your social media leadership with a few key moves that produce big results.
Download the brief to learn:
– 3 social media myths you've been led to believe
– Why a blog should be the hub of your online platform
– Simple ideas for creating high-value content
– And more…