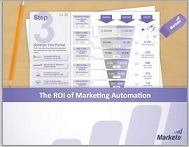 Today's fastest growing companies are using repeatable marketing and sales 2.0 techniques to grow revenue predictably and reliably. Download this paper and learn why companies that implement marketing automation software to support their marketing and sales efforts are better equipped to manage lead flow and process leads more efficiently. This paper outlines how automation optimizes marketing programs and can help companies:
– Create a faster and more predictable revenue cycle
– Increase profitability with tactics that result in a higher conversion rates
– Align the efforts of marketing and sales teams to substantially increase top-line revenue growth
Download this white paper to learn more.