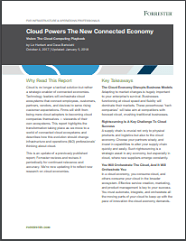 Cloud is no longer a tactical solution but rather a strategic enabler of connected economies. Technology leaders will orchestrate cloud ecosystems that connect employees, customers, partners, vendors, and devices to serve rising customer expectations. Firms will shift from being mere cloud adopters to becoming cloud companies themselves — stewards of their own ecosystems.
Read this Forrester Report to discover the transformation taking place as we move to a world of connected cloud ecosystems, and how this evolution should change your thinking about cloud.
VMware and Intel enable IT organizations to realize a digital transformation and deliver IT infrastructure and application services with the speed and agility to support business innovation and growth while optimizing TCO and improving resource utilization.