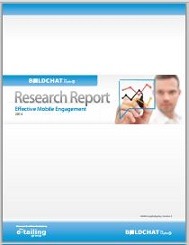 Analyzing mobile shoppers' habits to answer engagement questions in the new mobile reality.
This free research report surveyed over 5,800 mobile device owners to discover how the mobile reality has affected customer engagement. So you can optimize your mobile strategy, improve satisfaction and increase conversions.
The report covers:
• What is the current state of mobile engagement?
• Are there differences between engaging for technical support and for sales?
• Does mobile engagement alter expectations of what makes engagement successful?
• Are consumer expectations heightened simply because of their mobile device?
• What can businesses do to effectively engage mobile shoppers?