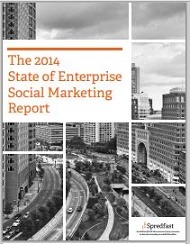 Key Strategies, Tactics and Business Value of Social Marketing at Big Brands
Marketing on social media is now imperative for companies seeking to stay relevant to consumers and potential customers. But little research has been conducted to learn how the most profitable brands and companies approach, execute, and measure social marketing.
In Q1 2014, Spredfast commissioned research from Forrester Consulting to uncover insights on the state of enterprise social marketing programs at the biggest companies across the U.S. and Western Europe. With input from 160 Director-level or above leaders in companies with $1 Billion or above in revenue, this first-of-its-kind research report surfaced corporate social marketing trends and insightful benchmarks for consideration in 2014 planning and beyond.
The 25-page research report reveals insights into:
• Executive-level oversight and priority of social marketing efforts
• The business value of social marketing across different social networks and tactics
• Enterprise companies' top business goals and objectives for social marketing
• How and what companies are measuring to determine the impact of social marketing
• The integration of social marketing across broader (non-social) marketing efforts and owned sites