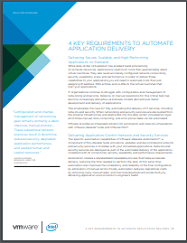 Many IT organizations are moving towards automating IT processes to meet the increasing demands of the business. By implementing network virtualization with automation, you can empower your IT team to stay on pace with the expectations of your business. Learn the four key configuration requirements to accelerate application delivery.
VMware and Intel enable IT organizations to realize a digital transformation and deliver IT infrastructure and application services with the speed and agility to support business innovation and growth while optimizing TCO and improving resource utilization.
—
VMworld is the premier digital infrastructure event. At VMworld 2018, compute, cloud, mobility, networking, and security innovation all begin with you—the catalysts unlocking value from today's technologies while anticipating a rapidly evolving high-tech future. Register now!