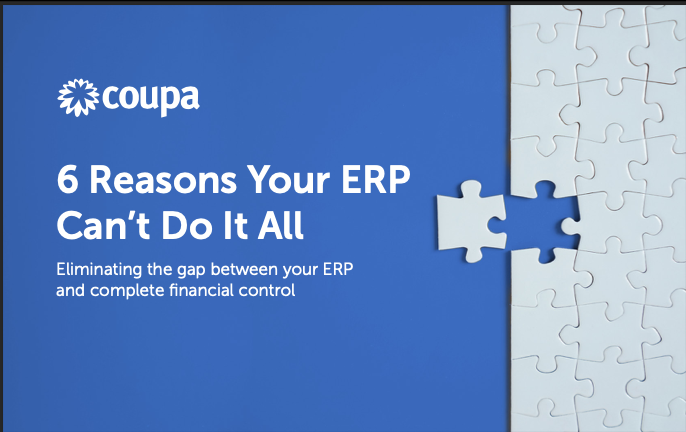 Your ERP system is the financial backbone of your business and it's great at managing the back office functions you need for finance. But when it comes to eliminating the manual, paper-based accounts payable processes for requisitioning, invoicing, managing working capital and expense reporting – it just can't do it all.
In this post-modern ERP era, no longer are companies making either-or decisions between their ERP and Procure-to-Pay (P2P) systems. Instead, modern finance organizations extend their ERP investment with a P2P platform to achieve full financial control and compliance, better cash management and increase the return on investments. Just as ERPs aren't used for customer relationship management for the selling side of the house, ERPs aren't a fit for business spend management for the spending side of the house.
Need more convincing? Let's dive into why P2P with the Coupa Business Spend Management Platform is the solution to the six reasons your ERP can't do it all.
#1 Gaps in Financial Controls
#2 No End to End AP Automation
#3 Not Future-Proof
#4 Blind Spots in Financial Processes
#5 Unable to Meet Public Market Demands
#6 Working Capital and Payments, Anyone?
Fill out this form to receive your free copy today.