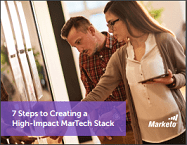 Until now, most organisations have built their MarTech stacks piece by piece—adding technologies to meet new needs or test new delivery methods. But with so many applications available and so many competitive gains to be made by using the right combination of technologies, it is increasingly important to have a strategy to connect your stack across marketing and other revenue-driving functions.
By harnessing a well-considered MarTech stack, marketers can bring order to the overwhelming volumes of data they collect from online and offline interactions with prospective and existing customers. Better yet, this technology enables you to make those insights actionable, meaning you can make informed decisions.
Download this ebook for seven practical steps your organisation can take to put together a high-performance MarTech stack.