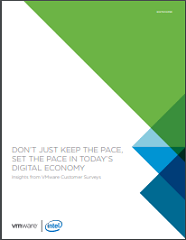 By better aligning technology with core business strategies, organizations can position themselves to anticipate and respond to changing customer needs, deliver the products and services they want in a more responsive, agile way, and help ensure a consistently superior customer experience. VMware surveyed approximately 200 members of its customer community in senior IT roles at enterprise, commercial, and SMB organizations worldwide to chart their progress and discuss the top challenges they face in building more nimble, responsive organizations to support their business objectives.
In this paper, we will also show how data center modernization can help organizations deliver the agility required to meet ever-increasing demands for faster innovation, through a flexible, service-oriented IT model that employs both private and public clouds.
VMware and Intel provide IT organizations a path to digital transformation, delivering consistent infrastructure and consistent operations across data centers and public clouds to accelerate application speed and agility for business innovation and growth.