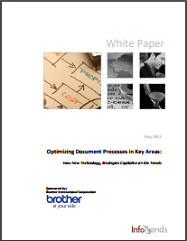 Brother printers have been winning awards for years – offering high-quality, well-designed printing solutions with excellent customer value. Whether for home, home office, desktop or network work-groups, in black & white or color, Brother has a printing solution for you.
Over the years, Brother has been providing and perfecting quality printers and all-in-ones. Brother laser / LED, inkjet, label and mobile printing solutions are used for businesses large and small as well as in the home. With a variety of innovative features, state-of-the-art technology and unbeatable affordability, Brother printers remain the smart choice for all your printing needs.
Why Choose Brother Printers
Brother printers offer low total cost of ownership as well as low acquisition costs. With Brother laser printers, inkjet printers, all-in-one printers and other products, you no longer have to sacrifice quality for affordability. Designed for use in the home, home office or corporate setting, our full line of Brother printers and products includes something for everyone.