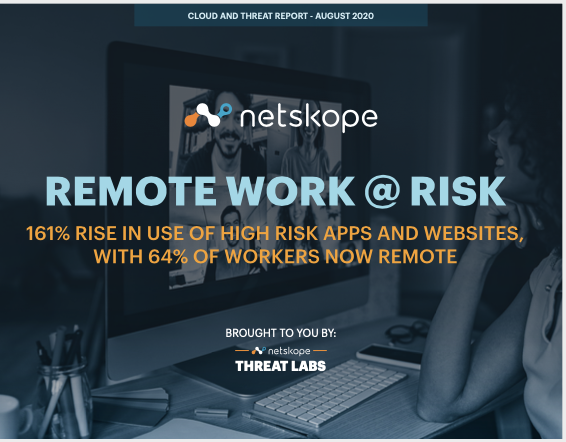 Remote Work @ Risk
The August 2020 Edition of the Netskope Cloud and Threat Report reveals a massive shift in user behavior, specifically the trend of personal use of managed devices, and the increased risk that comes with this shift.
These user behaviors include the adoption of new cloud applications, and the increasingly blurry lines between work and personal life. Get the latest Netskope Cloud and Threat report so you can effectively protect your business and get your security program up to speed.
Report highlights:
• 64% of workers are now working remote
• 148% increase since the start of the pandemic
Get the full report to see additional findings.
About Netskope®
The Netskope security cloud provides unrivaled visibility and real-time data and threat protection when accessing cloud services, websites, and private apps from anywhere, on any device. Only Netskope understands the cloud and takes a data-centric approach that empowers security teams with the right balance of protection and speed they need to secure their digital transformation journey.