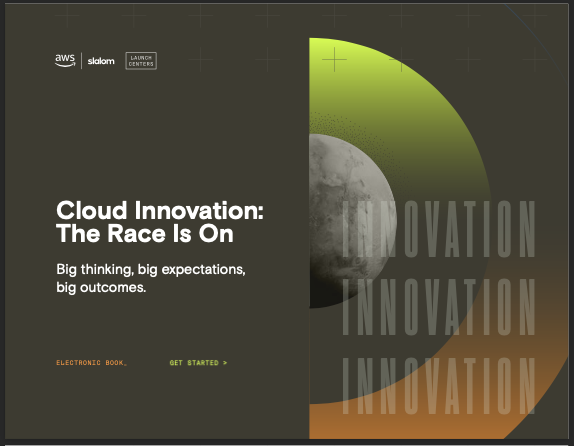 Big thinking, big expectations, big outcomes.
Throughout history, everyone from scientists and inventors to engineers have raced to produce the next great innovation. Today, that race continues—to build something better, faster, and more efficient. At the finish line? The kind of breakthrough that others only dream about.
In this eBook, explore how digital transformation powered by AWS | Slalom Launch Centers—a collaborative experience between Amazon Web Services (AWS), Slalom, and your company—enables innovation. Examine how real global companies including LG CNS and OnPoint Digital Solutions, a Koch Engineered Solutions Company, are transforming their businesses and industries as a result of such collaborations. And discover the details of exactly how AWS | Slalom Launch Centers engagements work.
Download the eBook to learn:
• The benefits of AWS | Slalom Launch Centers, including the immersive, tandem-teams model.
• Why bigger teams aren't always better when you're modernizing, migrating, or rebuilding on the cloud.
• What happens at AWS | Slalom Launch Centers—and after the engagement.
Whether you are just beginning to explore what's possible on the cloud or well into the journey of leading an industry transformation, Launch Centers can help you turn your business vision into reality—and accelerate into what's next.