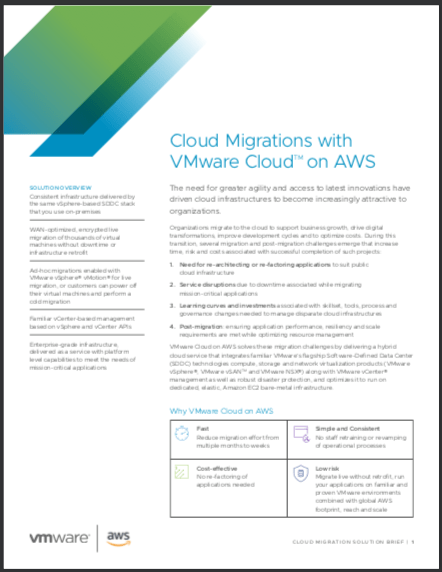 Organizations migrate to the cloud to support business growth, drive digital transformations, improve development cycles and to optimize costs. During this transition, several migration and post-migration challenges emerge that increase time, risk and costs associated with successful completion of such projects.
Read on to see how VMware Cloud on AWS solves these migration challenges by delivering a hybrid cloud service that integrates familiar VMware's flagship Software-Defined Data Center (SDDC) technologies compute, storage and network virtualization products (VMware vSphere®, VMware vSAN™️ and VMware NSX®) along with VMware vCenter® management as well as robust disaster protection, and optimizes it to run on dedicated, elastic, Amazon EC2 bare-metal infrastructure.
A hybrid cloud strategy empowers businesses with a "no-compromise" approach for an optimal mix of best-in-class on-premises and public cloud services. VMware and Intel deliver solutions that enable IT organizations to confidently integrate public clouds into their IT strategy to take full advantage of the hybrid cloud.
___

VMworld isn't just another IT event – it's your discovery powerhouse. The more you know, the bigger your impact. VMworld gives you the information, tools, and partnerships you need to solve today and tomorrow's cloud-based challenges. Register now for VMworld 2019 to advance your knowledge, explore tech's next wave, and build new connections. Register Now!