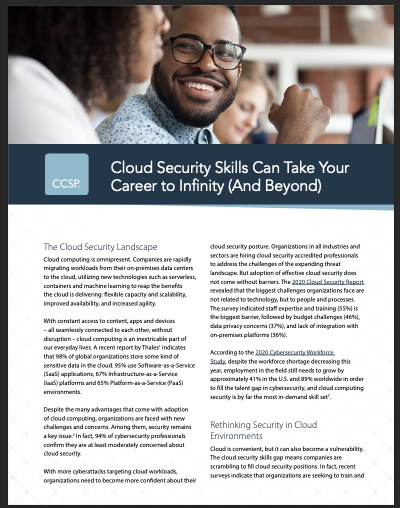 Build the Skills You Need to Stand Out in Cloud Security
Both the allure and omnipresence of cloud computing are undeniable. As businesses rapidly migrate workloads to the cloud, they realize significant advantages – along with new challenges and concerns. Not surprisingly, security is chief among them.
To meet these challenges, IT and cybersecurity pros the world over enhance their skill sets by earning the (ISC)2 Certified Cloud Security Professional (CCSP) credential. Globally recognized and respected, the vendor-neutral CCSP creates considerable benefits for individuals and the organizations that employ them. This white paper looks at the current landscape and the infinite opportunities for those who master cloud security.
Will that be you? Request a free copy to explore the possibilities.
CCSP at a Glance
• Stands out as the industry's premier cloud security certification
• Proves mastery to design, manage and secure data, applications and infrastructure in the cloud using best practices, policies and procedures
• Ensures practitioners can perform security in multi-cloud or mixed on-premises/cloud environments