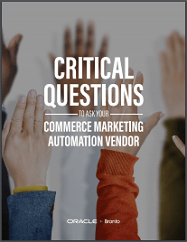 Strategic marketing and IT leaders are looking for ways to streamline marketing technology solutions, but are struggling to understand technology needs beyond basic functionality.
This whitepaper by Bronto and Oracle lays out a framework to help you identify commerce marketing automation platforms that best meet your needs.
Download this report to discover:
• The five essential qualities of a marketing automation solution.
• Questions that reveal a vendor's limitations on integration and support.
• How a marketing solution vendor's approach to integration and scale can affect your business.