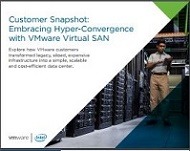 IT organizations can become crippled as technology demands shift around them, or they can recognize the changing conditions and adapt to what the future has in store.
VMware Virtual SAN can help address these concerns – see how our customers are raising their storage standards by downloading this eBook.
Radically simplify your data center and deliver low cost and high-performance compute and storage powered by VMware® Hyper-Converged Software and Intel® processors, SSD's and Networking.