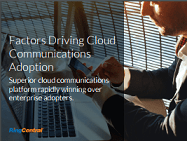 With the evolution of today's workplace, people are no longer constrained to working at a certain time and place. Thanks to cloud communications and collaboration, individuals can now work whenever—and wherever—they want. In fact, the modern workforce now expects this level of flexibility.
Enterprises have noticed this trend and are making the move to cloud communication and collaboration. What was once viewed as an "emerging" technology has now grown into a mature industry that represents the very future of business communications.
So what advantages do cloud-based solutions really offer over traditional, premise-based hardware? Start with dramatic cost efficiencies, greater agility, and unsurpassed scalability. Plus cloud technology better satisfies the demands of today's modern mobile workforce.
Ready to take a closer look at what makes cloud communications so compelling? Wondering what you should be looking for as you begin to evaluate vendors? Arm yourself with the facts by downloading this informative report.