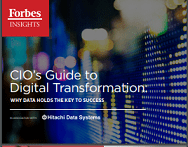 Forbes revealed a common theme among IT pioneers: digital transformation isn't just their biggest challenge, it's also their best opportunity. IT innovators see a data-defined path to unlock success in digital business.
In this guidebook, you'll explore:
• Why data is at the core of digital transformation and its key role in the new enterprise
• Top considerations for CIOs, including advice from IT pioneers
• The five keys to achieve true digital transformation success
Find out how to turn digital transformation from a challenge to a data-defined opportunity.
Download the guide today.