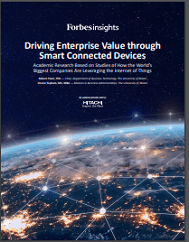 How the World's Biggest Companies Drive Enterprise Value With IoT

Original Research Identifies New Models for IoT Program Planning and Implementation
Academic research conducted by Forbes Insights and the University of Miami reveals how some of the world's biggest companies leverage data from the Internet of Things (IoT) to transform their businesses.
Based on in-depth interviews with senior executives in global leadership positions, the report presents new models for understanding your organization's IoT maturity and new frameworks to help you develop strategies for long-term success as IoT takes hold and data-driven decision making becomes more important.
Read the report to better understand how to position your enterprise to improve operations, develop new offerings and reach new markets through the business enabling value of data.