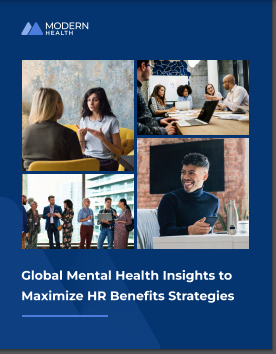 Access Global Mental Health Benefits Data From 50+ Countries
The latest trends on benefits utilization, engagement, and care preferences across the US, Canada, LATAM, APAC, and EMEA.
With 79% of employees likely to stay at a company that provides high-quality mental health support, equitable global access to mental health benefits is now a business priority.
The Global Mental Health Insights to Enhance HR Benefits Strategies playbook is designed to help HR & benefits leaders better understand their workforce, and equip them with the information they need to develop a competitive mental health benefits strategy. Download the resource to:
• Uncover key workforce trends across LATAM, APAC, EMEA, United States & Canada.
• Benchmark your current mental health benefits strategy.
• Discover how to enhance your benefits strategy to attract, retain, and engage talent.