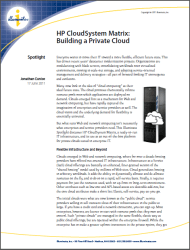 Everyone wants to move their IT toward a more flexible, efficient future state. This has driven recent years' datacenter modernization projects. Organizations are modularizing with blade servers, consolidating workloads onto virtualized environments, moving to scale-out storage, and adopting service-oriented management and delivery strategies—all part of forward-looking IT convergence and evolution. Many now look to the idea of "cloud computing" as their ideal future state. The cloud promises theoretically infinite resource pools onto which applications are deployed on demand. Clouds emerged first as a mechanism for Web and network computing, but have rapidly captured the imagination of enterprises and service providers as well. The cloud vision and the underlying demand for flexibility is essentially universal.
But what suits Web and network computing isn't necessarily what enterprises and service providers need. This Illuminata Spotlight discusses HP CloudSystem Matrix, a ready-to-run IT infrastructure, and its use as an out-of-the-box platform for private clouds suited to enterprise IT.
One of the key problems over the years is that manageability has been thought of, designed, and acquired as an add-on. For years, it's been clear that to make systems fundamentally more manageable, you have to build manageability in from the get-go. We must move to a higher level of management—one focused on business applications and delivered service levels, and on the processes that IT and business users participate in. That's where HP's CloudSystem Matrix comes in. This white paper helps you understand how to think about IT infrastructure in a systematic, holistic way and how HP's CloudSystem Matrix can make that possible.
Intel and the Intel logo are trademarks or registered trademarks of Intel Corporation in the U.S. and/or other countries.