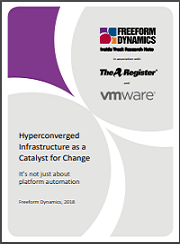 Many IT teams are dogged by infrastructure complexity and heavy reliance on manual processes and home-grown scripts. Newer technology options such as hyperconverged infrastructure can help to simplify and inject more automation into the IT systems environment. But this has knock-on effects in terms of skills requirements and the nature of future operations work, and both IT leaders and practitioners at the sharp-end need to be prepared.
Hit refresh on your data center infrastructure.
Choose Intel® and VMware vSAN as the complete solution for your next server refresh and join more than 14,000 diverse global customers in hyper-converging compute and storage to establish a digital foundation for tomorrow's business demands.