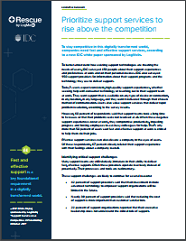 Customer support and employee support continue to blur as user expectations grow more similar. This convergence and technology enhancements put increased stresses on support organizations to meet evolving customer demands and IT help desks to focus on employee experiences.
60% of users say that support teams provide unsatisfactory service, according to an IDC report. Many support teams are reactive rather than proactive, with nearly 30% of support providers valuing cost over customer satisfaction, per the report.
Take a step toward making your customers happy with advanced options, such as remote support tools, that can meet the needs of sophisticated users.