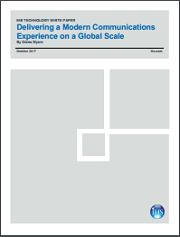 According to IHS Markit's 2017 Unified Communication (UC) Strategies and Vendor Leadership North American Enterprise Survey, 60% of respondents will have some or all of their unified communications in the cloud by 2018. Learn why truly unified communications and collaboration are being adopted so rapidly in the enterprise.
Analyst Diane Myers shares the trends and best practices in migration of unified communications and collaboration solutions to the cloud. Top drivers include:
* Improving employee productivity and response time
* Creating more efficient and agile organizations
* Integrating communication tools with business applications
Download the paper today to get all the details on how providing a consistent unified experience across the globe enables dispersed teams to effectively collaborate and meet their goals.