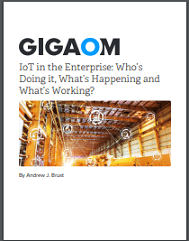 IoT in the Enterprise: Who's Doing it, What's Happening and What's Working?
New GIGAOM Survey of Enterprise IT Executives.
Whether in the mainstream media, the tech press, or in business circles, a lot has been made of the Internet of Things (IoT). But IoT is about a lot more than internet connectivity for far-flung machines and devices. It's about collecting sensor readings and other data from those "things" to provide business value.
Why is providing value from that data so important, and where are organizations with it today? What are the key success factors and recommendations? Gigaom surveyed 300 Enterprise IT Executives and gained some key findings on the market.
Download this research brief to learn more about:
• IoT Leaders and Funders
• IoT Maturity and Success
• Scope of IoT Initiatives
• Vendor Approaches
• Recommendations for IoT Success