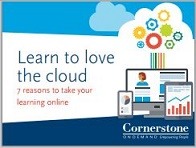 If you've only ever used instructor led training, the idea of moving your learning and development online can seem a little daunting. But cloud-based training can easily make e-learning a reality in your organization; with little hassle and minimal cost.
In this eBook 'Learn to Love the Cloud', we share our top 7 reasons it makes sense to move your training online, including:
• Saving time and money on technology wrangling
• Easy access to a huge range of content
• Greater data efficiency
• Increased learner engagement
Grab your copy of Learn to Love the Cloud and see how e-learning can save you time and money, help you be more strategic with your training, and empower your learners to take charge of their professional development. It just makes sense!