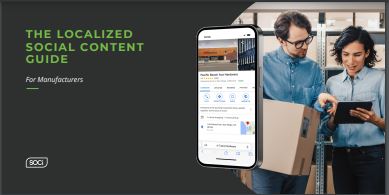 As a manufacturer selling through independent retailers, you face the unique challenge where you must remain top of mind with both your target consumers and your dealer network. Accomplishing this at scale is difficult, but it doesn't need to be. SOCi is here to help!
Check out our latest Localized Social Content Guide and discover how to:
• Drive more business to locations where your products are sold
• Make brand champions out of your retailer network
• Stand out as a preferred brand from your competitors
• Which local social channels your manufacturing business should focus its efforts on
• Best practices for creating effective local social content
Download the full guide now to get started building a winning localized social strategy!