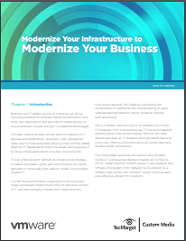 ​In all industries, there's a continuous pressure to embrace the digital transformation and accelerate the delivery of applications and services to market. Traditional data centers mean high operational costs, making most businesses see the need to move critical applications to public cloud services. Organizations are using hyper-converged infrastructure (HCI) to bring key IT functions together and reduce the strain on IT budgets. Read this whitepaper to learn more about how organizations are using HCI to modernize their infrastructures.
Hit refresh on your data center infrastructure.
Choose Intel® and VMware vSAN as the complete solution for your next server refresh and join more than 14,000 diverse global customers in hyper-converging compute and storage to establish a digital foundation for tomorrow's business demands.