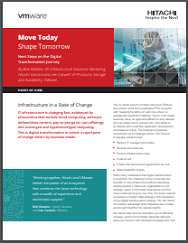 Cloud computing, software-defined data centers, pay-as-you-go services, and converged and hyperconverged computing all show how quickly IT infrastructure is changing. This is digital transformation – accelerating change driven by business needs. To keep up, you need solutions that:
• Reduce IT management burden.
• Simplify IT and automate.
• Reduce infrastructure costs.
• Scale at will.
• Ensure service-level agreements are met.
• Meet availability targets.
"Working together, Hitachi and VMware deliver the power of any ecosystem that combines the latest technology with a wealth of experience and world-class support."
–Bob Madaio, Hitachi Vantara, and Lee Caswell, VMware.
Learn to shape tomorrow and define the next steps of your digital transformation in this Point of View.