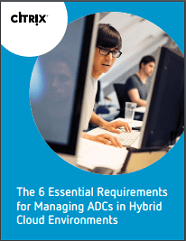 Now that your organization is deploying apps on-premise and in the cloud, you need an ADC that can manage, monitor, and troubleshoot applications across your entire hybrid and multi-cloud landscape.
How do you select a solution that can help you deploy and monitor your application infrastructure end-to-end?
Download "The 6 Essential Requirements for Managing ADCs in Hybrid Cloud Environments" to learn more. Fill out the form below to receive this eBook.
This eBook identifies ADC considerations for:
• End-to-end visibility of your application infrastructure
• Real-time analytics for application performance
• Form factors for deployment in any environment