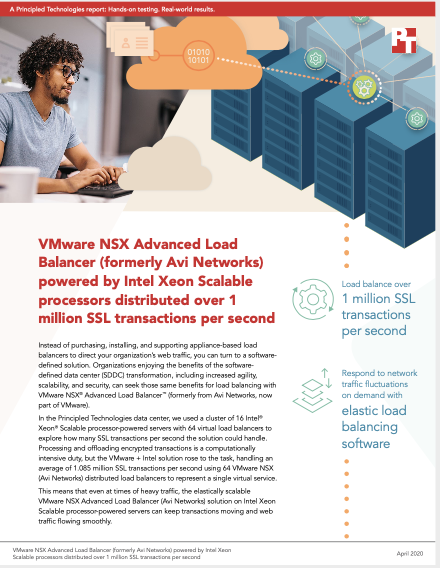 Benchmark Report on VMware NSX Advanced Load Balancer
Moving from appliance-based load balancers to software-defined VMware NSX Advanced Load Balancers could enable your organization to modernize load balancing services with efficient use of standard computing infrastructure and reduce overprovisioning.
For enterprises moving to software-defined data centers, the combination of VMware NSX Advanced Load Balancer deployed on servers with Intel Xeon Scalable processors represents a high‑performance solution to load balance large volumes of encrypted traffic.
VMware and Intel provide IT organizations a path to digital transformation, delivering consistent infrastructure and consistent operations across data centers and public clouds to accelerate application speed and agility for business innovation and growth.
Shape Your Future at VMworld 2020
Online Around the Globe
September 29 – October 1
Register to Attend