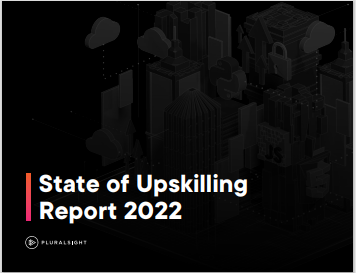 Upskilling is a pivotal tool in your organization's success roadmap. That's no longer up for debate. However, what that upskilling looks like can vary, and your approach can transform your results.
We surveyed 750+ technologists across all industries to get a clear picture of the state of upskilling in tech today. The results might seem like clickbait if we didn't have the data to back it up. Find out how to retain your talent. Get proactive about building the skills you need to stay competitive—before skills gaps put you behind. Ensure your teams are equipped to tackle whatever challenges come.
Grab your goggles. It's time to dive into the data pool with the 2022 State of Upskilling.
You'll learn:
• How technologists feel about upskilling opportunities in their orgs
• Where the largest skills gaps exist
• Factors that threaten to turn those gaps into chasms
• Takeaways you can turn into action items