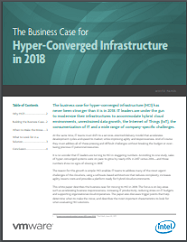 The business case for hyper-converged infrastructure (HCI) has never been stronger than it is in 2018. IT leaders are under the gun to modernize their infrastructures to accommodate hybrid cloud environments, unrestrained data growth, the Internet of Things (IoT), the consumerization of IT and a wide range of company-specific challenges.
Hit refresh on your data center infrastructure.
Choose Intel® and VMware vSAN as the complete solution for your next server refresh and join more than 14,000 diverse global customers in hyper-converging compute and storage to establish a digital foundation for tomorrow's business demands.