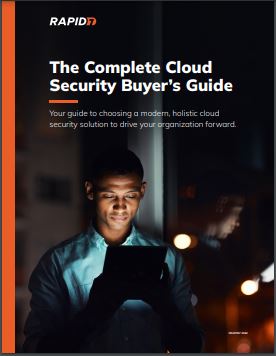 Today's cloud security teams are tasked with attempting to tame the seemingly untameable. With the need to secure globe-spanning cloud networks, it may seem like the majority of cloud security providers offer the same thing: a solution to the problem of cloud security. However, a one-size-fits-all solution could be hard to come by. Many vendors tout cloud security platforms, but often mean very different things.
Rapid7's Complete Cloud Security Buyer's Guide is designed to add clarity to the process of choosing a cloud security solution, helping you sift through the chaos of this still-new space.
In this guide, you'll learn:
• The types of cloud security solutions, and how they've changed over time
• How to make the business case for cloud security
• The 6 key use cases any cloud security solution should be able to solve
• Questions to ask in evaluating a cloud security product
Download the guide to learn more about choosing the right cloud security solution for your organization.