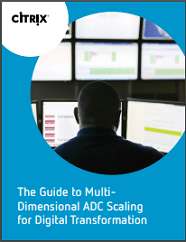 You need an ADC that can reduce you app delivery costs by managing capacity centrally, and allocating bandwidth flexibly across your network.
How do you select an ADC solution that will protect your investment and help you respond to changing conditions?
Download "The Guide to Multi-Dimensional ADC Scaling for Digital Transformation" to learn more. Fill out the form below to receive this eBook.
This eBook identifies ADC considerations for:
• Managing network infrastructure capacity centrally
• Allocating bandwidth flexibly
• Pooling license capacity across your network
• A cost effective transition from hardware to software