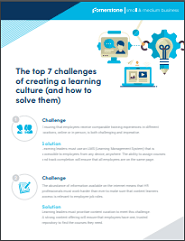 59% of millennials, 44% of Gen Xers, and 41% of baby boomers say opportunities to learn and grow are extremely important to them when applying for a job.
HR professionals know just how important it is to create a culture of learning; however, there can be numerous challenges to implementing it.
Download our quick-guide on the Top 7 challenges of creating a culture of learning and get tips on how to conquer them. You'll get insights on training employees in different locations, relevant learning, technology, and more.