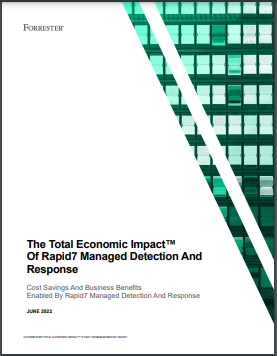 Keeping your environment safe from evil is a top priority. But when you can't handle detection and response in-house, it's time to look for a partner who can help. In this Rapid7-commissioned 2022 Total Economic Impact™ (TEI) study from Forrester Consulting, you'll learn how Rapid7's Managed Detection and Response (MDR) service drove a significant Return on Investment (ROI) for a composite organization that was representative of interviewed MDR customers.
• 549% ROI over three years
MDR efficiencies in alert detection, investigation, response, and reporting translate to a significant ROI
• < 3-month payback on your investment
Existing security teams were immediately extended to include Rapid7 experts
• 90% reduction in the likelihood of a major security breach
Threats were discovered faster and also stopped faster
Download the full TEI study to explore the impact MDR might have on a business like yours.