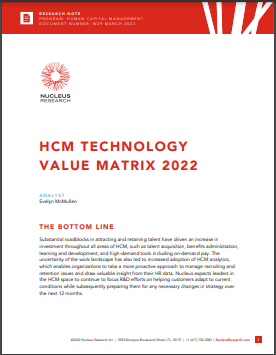 Substantial roadblocks in attracting and retaining talent have driven an increase in investment throughout all areas of HCM, such as talent acquisition, benefits administration, learning and development, and high-demand tools including on-demand pay. Organizations that are winning the war for talent have been proactive in their HCM technology investments, while organizations that have not re-evaluated their technology are losing talented employees left and right.
It has been proven that manual approaches to HR are no longer viable, as automation gives HR leaders the time required to quickly adapt to changes concerning their employees, increasing their engagement and retention.
With so many HCM vendors out there, making the right investment can be arduous for organizations, but luckily Nucleus Research can help you identify the best performing HCM vendor to get the return you deserve.
Download this Nucleus Report to compare the best HCM solutions and learn the many reasons why UKG has not one, but two solutions named as a leader in HCM technology, including:
• A strong vision and commitment to HCM technology innovation, supported by consistent investments in advancing its technology, dedicating ~20% of its revenues annually to R&D
• Acquisition of Great Place to Work provides customers access to robust employee survey features, enabling employees to provide transparent and honest feedback about their organization
• Smart pay analytics that allow administrators to access embedded analytics in real-time, including payroll comparisons and audit cards – all in the flow of work
• Intuitive benefits open enrollment process that provides employees clear instructions, quick benefits comparisons, and access to enroll from any device – limiting the phone calls to HR
You don't want to miss the chance to find the best HCM solution for you and your employees, download the report today!