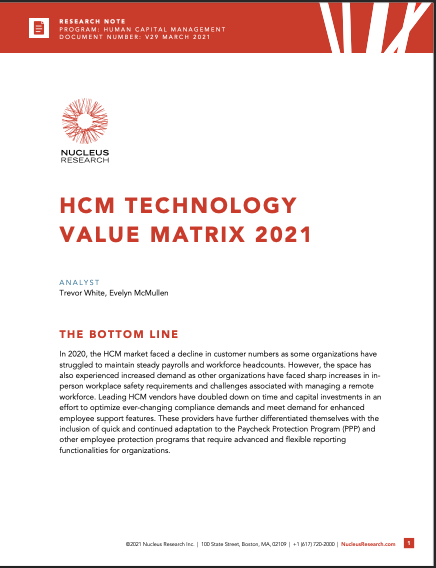 Of the 16 human capital management (HCM) providers evaluated by Nucleus Research in its 2021 HCM Technology Value Matrix, two UKG solutions — UKG Pro™ and UKG Ready™ — have been named leaders. The designations are based on Nucleus' assessment of relative usability and functionality of the solutions as well as the value customers have gained from each product's capabilities.
The changes that have come over the last year due to the COVID-19 pandemic — from the mass shift to remote work to new leave regulations — have served as an eye-opener for many organizations when it comes to people management. For those who depended on manual systems, work became exponentially more difficult, if not impossible in some cases. Others realized that even though they were already using HCM technology, it may not have risen to the occasion to alleviate challenges. As an HCM leader, UKG supports people through both the major and everyday moments they experience while at work and helps solve the challenges presented by industry, geography, business size — and even global health crisis.
The Matrix identifies UKG Pro — UKG's flagship HCM solution — as having best-in-market functionality. The suite is designed for large and medium-size enterprises and helps HR teams manage every aspect of the life-work journey, including recruiting, payroll, talent management, AI-powered employee sentiment, and HR service delivery. The report spotlights the advantages of market leading HCM and workforce management in a single suite, allowing HR leaders and employees alike to "benefit from a seamless user experience, consistent design, and more unified tasks and actions." It also notes UKG Pro's advanced reporting and analytics capabilities which empower organizations to draw contextual insights for more informed decision-making.
Also ranked in the Leader quadrant is UKG Ready — designed for smaller, leaner HR teams, this solution creates more connected, relevant, and meaningful work experiences and allows you to leverage HR, payroll, talent, and time in a single solution to deliver a modern, personalized experience. The report highlights the high usability of UKG Ready: "The platform's modern user experience enables smaller HR teams to provide an enterprise grade solution giving their people access to the resources they need anytime, anywhere, and from any device."
Get an in-depth look into the 2021 HCM Technology Value Matrix to learn more about UKG Ready and UKG Pro, including recent updates, and see for yourself why both solutions have earned their place as leaders in the HCM market.