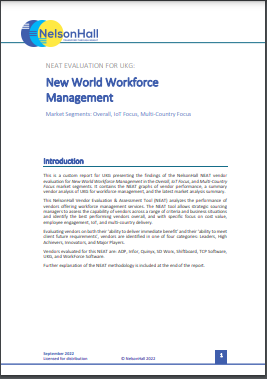 Economic uncertainty has rapidly accelerated the already intense need for employers to digitalize HR operations and thrust the future of work forward sooner than expected. Organizations that do not focus on advancing their HCM technology run the risk of being left behind, losing talented employees to more tech savvy competitors. To best attract and retain the future of work, organizations must modernize employee experiences and enable digital HR capability for greater efficiency, insight, agility and resiliency in meeting the challenges of the next decade.
Its' no secret HCM technology investments are soaring, but how can you find the best solution for your buck?
Luckily NelsonHall has a report that allows leaders to assess the capability of vendors across a range of criteria and business situations and identify the best performing vendors in the SMB and mid- to large company markets.
Download the latest NelsonHall NEAT report to learn the many reasons why UKG was named an HCM
leader in these 2 segments, including:
• A strong vision and commitment to HCM technology innovation, supported by consistent
investments in advancing its technology, dedicating ~20% of its revenues annually to R&D
• Ability to offer best-in-class WFM and HCM technology in a seamlessly integrated, single vendor
offering
• Purpose built HR solutions that provides an additional level of service and managed payroll
processing services to support buyers of all sizes and sectors
• Award winning, high-touch support and services with flexible options and a dedicated
relationship manager
Don't miss out on the opportunity to learn what the future of HCM technology looks like, download the report today!