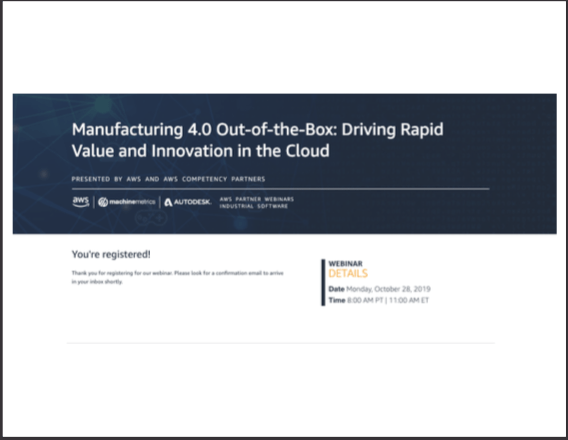 Leverage AI/ML and predictive analytics for manufacturing.
The Industrial Internet of Things (IIoT) space is trending, as manufacturing represents perhaps the largest greenfield opportunity left for digitization. As deployments increase, organizations are sometimes left seeking ways to realize immediate value from these investments.
Many companies are now leveraging low-touch, rapidly deployable software and systems powered by the cloud. These technologies are highly accessible, quick to implement, and provide fast time to value.
Join our live panel discussion with Amazon Web Services (AWS), MachineMetrics, and Autodesk to learn about common approaches that enable digital and IIoT initiatives, and the new "out of the box" applications that are driving rapid, continuous value for manufacturers.
Register to learn
• How things like artificial intelligence, machine learning, predictive analytics, and the edge play a role in manufacturing
• How manufacturers are cutting through the noise and starting to leverage technology to drive immediate results
• The value of immediate and continuous opportunity when committing to a digital transformation initiative
• Real-life examples of organizations utilizing "out-of-the-box" IIoT applications