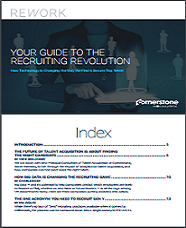 The modern recruiter has it far from easy. While the soft skills of recruiting are still relevant — good communication skills, outgoing personality, and keen intuition — the tech-driven world of work requires talent acquisition specialists to navigate a variety of tools, data analytics, and social media platforms. Recruiters can no longer just be great "people people"—they need to be great tech people, too.
As an employer, how can you embrace these new recruiting tools without losing the "people" side of recruiting? In this guidebook, you'll learn about how technology is revolutionizing recruiting, and how to meet the challenges that accompany these changes. Articles include:
• The Future of Talent Acquisition Is About Finding the Right Candidate
• How Big Data Is Changing the Recruiting Game
• The One Acronym You Need to Recruit Gen Y
• The State of Social Media Recruiting
• The Best Candidate for the Job Already Works for You
• Want More Workforce Diversity? Erase the Jargon From Your Job Descriptions
• Why Recruiters Need to Think Like Job Candidates
With seven articles on everything from utilizing analytics to integrating talent mobility to writing better job descriptions, our featured experts will help you navigate the changing landscape of talent acquisition and hire people who will thrive in your organization.