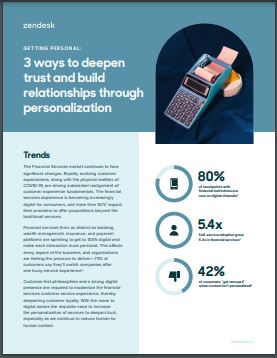 Building positive, long-term customer relationships has always been important to business success, and the methods for doing so are evolving quickly across industries.
This is definitely the case for financial-services companies.
Rapidly evolving customer expectations are driving substantial realignment of customer experience fundamentals. The financial services experience is becoming increasingly digital for consumers, and more than 50% expect their providers to offer propositions beyond the traditional services.
In this whitepaper you'll learn how companies foster relationships at scale by:
• Delivering omnichannel experiences
• Personalizing every touchpoint
• Empowering teams to deliver exceptional service