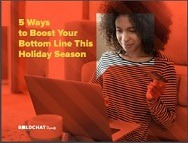 eMarketer estimates that ecommerce sales during the 2016 holiday season will increase 13% over last year, accounting for 20% of the industry's annual sales revenue. More than half of those purchases will happen via mobile devices.
This eBook outlines 5 tips for taking your customer engagement strategy to the next level this holiday season, to help you delight your customers and boost your bottom line.
Download this paper now to find out more.