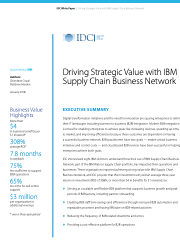 Modern business-to-business (B2B) integration is critical to increasing revenue, speeding up time to market and improving efficiencies. That is why many enterprises have opted for cloud B2B integration and have chosen IBM Supply Chain Business Network.
Read this IDC white paper to learn how you can realize benefits over a three year period like:
• More than $4 in business benefits from each dollar invested
• An average ROI of 308 percent
• Payback in 7.8 months
• Additional revenue of $3 million
Fill out the form to find out more about this cost-effective platform for B2B operations.