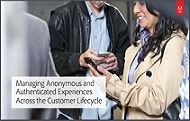 Today, customer identity is the only constant in digital marketing. But as consumers switch from desktop to mobile, they are more and more difficult to recognize. But it's not impossible. The Adobe white paper, Managing Anonymous and Authenticated Experiences Across the Customer Lifecycle, explains best practices to identify your anonymous and authenticated customers while complying with regulations, contracts, and industry standards.
Read the paper to learn:
• The benefits of well executed personalization
• How to navigate the landscape between anonymous and authenticated data
• Safe and effective uses of consumer information
• The technological building blocks to put these new methods to work
Make the most of your data across the entire customer lifecycle.