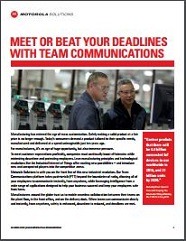 Are your manufacturing operations out of touch? To meet customer expectations profitably, companies must continually boost efficiencies while minimizing downtime and protecting employees from the plant floor, to the front office and delivery dock. With Motorola Solutions Team Communications offerings, workers can communicate instantly and securely via push-to-talk (PTT) between smartphones, radios, computers, landlines or any other devices. Augment PTT communications with a rich data application ecosystem for additional context and intelligence – like work order ticket management, dispatch solutions, asset management, alarms, telemetry and WAVE™ PTT. Download this brief to explore intelligent team communications solutions designed to meet the demands of manufacturing and uncover how to:
Connect teams and empower them to reach full potential
Automate labor-intensive processes via efficiency-boosting applications
Hear and be heard in noisy environments…and beyond
Accelerate time-to-market
Get actionable advice on how you can enhance safety, reduce downtime and meet deadlines – go now!